Il Life Support System flessibile, personalizzabile e adatto alla ricerca
Industrial control system
Aquatron is an active monitoring and control system that can be used on small and large plants.
It is not a simple hobby system for monitoring a few parameters and controlling small pumps.
Its compatibility with various industrial standards makes it capable of communicating with all sensors of any brand on the market, of controlling any actuator, be it discrete, analog or digital, including inverters for driving large pumps.
Remote
control
It is possible to remotely control the entire system without worrying about network settings, thanks to the creation of a dedicated network. From phone or computer.
Save
time and money
The system is already configured to perform routine automatisms and customized actions can be added thanks to which the saving of time and money becomes significant
Research
oriented
All collected data can be recorded in a database, the program displays detailed graphs and everything can be exported for further analysis
download the brochure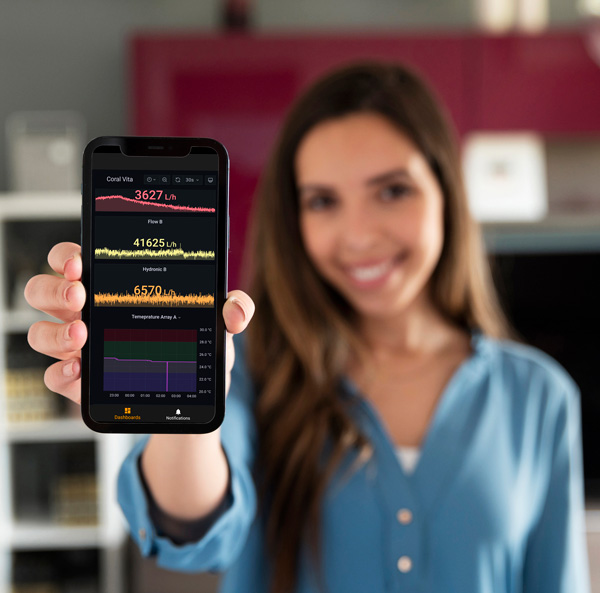 All in your hands
Not a moment of your work will be lost, all recorded and ready to be viewed from anywhere in the world
Compatible
MODBUS RTU
MODBUS TCP
MQTT
0-10 V
4-20 mA
DMX
Recordings
Track every measurement with the built-in logging function
High flexibility
We can adapt the software to the needs of your application
Alarms
Aquatron sends detailed alerts to multiple users via email and telephones in the event of a major alarm
Aquatron can measure everything : Flows, pressures, pH, ORP, salinity, temperature, dissolved oxygen, ozone, UVC radiation, atmospheric pressure, wind, humidity, weather, can use selective ion probes to measure various elements or pollutants.

Aquatron can command everything: pumps, inverters, motorized valves, shutter valves, heaters, chillers, lighting systems, skimmers with regulation of the delivery pump and skimming pump power, UVC sterilizers. It can also perform automatic top-ups, automatic water changes and keep the salinity within a certain range.

Aquatron makes use of industrial electronics. We do not use custom electronics for our systems but we rely on highly reliable partners such as Siemens and Hitachi. Proven electronics for critical sectors.

Aquatron can be remotely updated and configured . Our staff can connect to the system for updates without having to go to the site of the plant and can intervene for checks at any time. This allows a considerable saving of time and money.

Aquatron is also suitable for both closed and open systems. For aquaculture, public aquariums, systems with coral for reproduction.
Coral reef restoration
Oceanlife Aquatron plants are used by Coral Vita for the restoration of the coral reef in the Bahamas. 30,000 liters and more than 10,000 corals
learn more